3 family-owned businesses moving into empty North Smithfield facility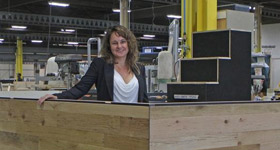 By Kate Bramson - ProvidenceJournal.com
NORTH SMITHFIELD, R.I. — Three interconnected family-owned construction and manufacturing businesses are renovating, expanding and moving about 50 employees into a North Smithfield facility that had been empty in recent years.
By mid-summer, KB Surfaces expects to complete its move from Johnston into an 85,000-square foot facility at 20 Providence Pike, said Tracey Beck of Lincoln, co-owner of all three businesses. CAS Acquisition Co. LLC, previously in East Greenwich, and Closettec have already moved into the building.
The family "aggressively" searched for the right space for about three years and weighed the pros and cons of buying a facility or custom-building one to suit their needs, Beck said. Initially, the co-owners — Beck and her husband, Brian Beck, and Brian's brother, Ken Beck — looked in Massachusetts.
"We figured Massachusetts would probably be a smarter decision for us economically, but my husband's family — they've been in Rhode Island their whole lives and they really felt it was important for them to stay and support Rhode Island," said Tracey Beck, who's from New Hampshire but has lived here almost 20 years.
Then, they found the right place in North Smithfield. A family real-estate entity, 20 Providence Pike LLC, bought the facility, on nearly 7 acres, for $1.7 million from LRD LLC, assessor's records show. Kloeckner Metals Corp. formerly owned the building, which once housed steel manufacturer Denman & Davis.
KB employs about 20 people and manufactures and installs custom countertops for residential, industrial and commercial projects. CAS Acquisition, a mill and woodworking operation, employs about 15 people and makes custom cabinetry for doctors' offices, Dunkin' Donuts, Starbucks and others. Closettec, the family's newest acquisition, employs about 15 people and makes custom closets.
North Smithfield town planner Robert Ericson said the family's new building has been empty at least two years.
Beck said North Smithfield's building inspector and others have been "very, very helpful" to meet deadlines with inspections and paperwork and offering suggestions for who to contact regarding energy-efficient options.
"When we were in Lincoln, we never got that kind of support," Beck said. "Johnston, never. It was so refreshing to have such a positive and encouraging welcome from a town like that."