CAS America Wins Remodeling Award for State-of-the-Art Closettec Showroom Design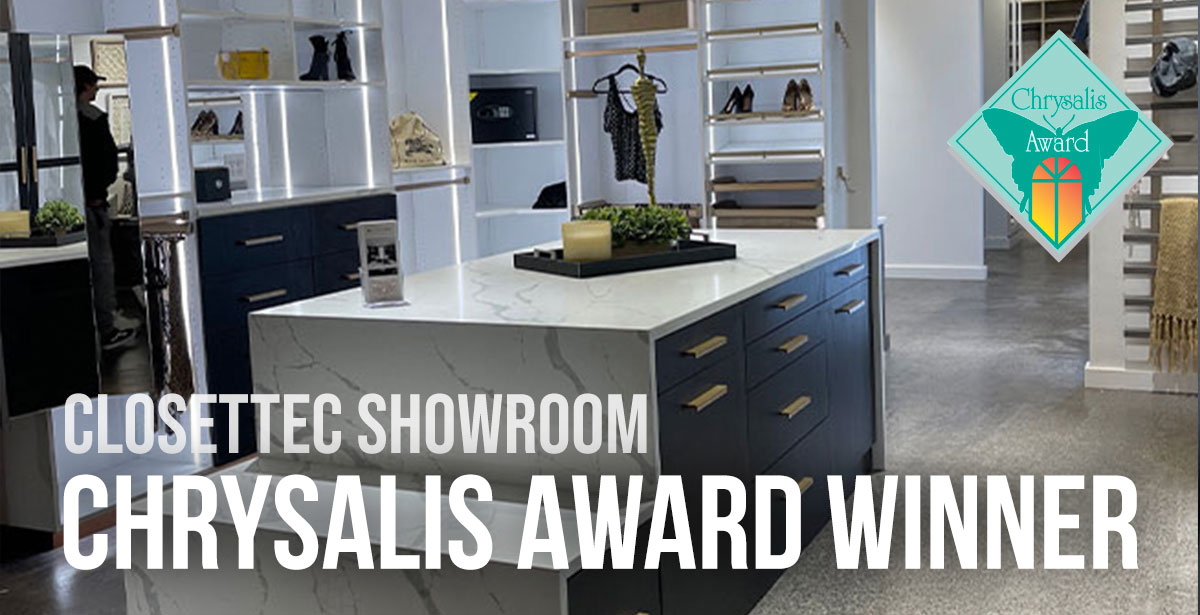 READING, MA AND NORTH SMITHFIELD, RI… CAS America, a family-owned manufacturing company that designs and produces customer-specific casework, is a winner of the 2022 Chrysalis Award for Remodeling Excellence.
Continuing to set new standards of professionalism, 79 companies from across the United States were named winners at the 2022 Chrysalis Awards for Remodeling Excellence. The entries were judged on overall design, the creative use of space and materials, and the degree to which the project enhanced the original structure.
CAS America was honored with the prestigious Chrysalis Award for their innovative design of the Closettec Showroom, which features prototypes of custom-designed and custom-built quality storage solutions for home and office. Making closet design fun and interesting, the showroom included traditional walk-in closets, Murphy wall beds, custom bookcases, a Mudroom, an innovative laundry room featuring a Pet station and more. The design breaks the traditional showroom model of a boring plain closet and showcases a whole home layout highlighting total home storage solutions utilizing the latest products, lighting and accessories. What also makes it unique is that all displays were manufactured locally and feature products from the multiple divisions of The Beck Companies. This is the first Chrysalis Award for CAS America.
There are three Closettec Showrooms - one in the manufacturing facility in North Smithfield, RI, another is a state-of-the-art mobile showroom, and their newest location is inside Jordan's Furniture in Reading, MA. CAS America and Closettec are among the The Beck Companies' family of five companies based in North Smithfield, RI.
"This was the first year they have entered the awards, and to take home top honors on the first attempt is impressive," says Ken Kanline, Director of the Awards.
According to Tracey Beck, owner of The Beck Companies, "This has far exceeded our expectations and we are incredibly proud CAS America was named among the best in the remodeling industry."
The Chrysalis Awards program, begun in 1994, recognizes the nation's best work in fourteen general categories of residential and commercial remodeling. The Chrysalis Awards are open to every professional remodeler and design professional in the United States.
Pictures and summaries of the 2022 award-winning projects can be seen on Chrysalis website www.chrysalisawards.com beginning in August.
About CAS America
CAS America is a family-owned manufacturing company providing end-to-end casework and countertop fabrication that is used in a variety of environments such as: Commercial, Administrative, Healthcare, Medical-Dental, Residential and Component Parts to name a few. CAS America operates alongside Closettec, Great American Recreation, Dark Horse Metal fabrication and KB Surfaces in an expansive facility in North Smithfield, RI. Visit www.casamerica.com
About Closettec
Serving New England since 1985, Closettec specializes in custom-designed, custom-fitted, and custom-built quality storage solutions. With their own staff of craftsmen and designers, Closettec team collaborates with you to design a solution that fits your needs and helps you stay organized while adding value to your home or office. Closettec offers on-site measurement at no charge, and provides manufacturing and installation services on all products. Closettec showroom is located in Reading MA or call us and we will bring the showroom to you. The company is headquartered in North Smithfield, RI. Visit closettec.com or contact 1-800-880-6792.
The Beck Companies
Within an 85,000 square foot facility in North Smithfield, Rhode Island, The Beck Companies has created a state-of-the-art, multi-specialty showroom, design, and high-tech fabrication/manufacturing megaplex for the wholesale fabrication of total project interior products such as countertops for kitchens, vanities, as well as commercial applications such as desks, bars, conference tables etc. Some of the countertop mediums manufactured feature granite, marble, soapstone, engineered stone, porcelain, stainless steel, laminate, solid surface and solid wood. Along with this impressive array are custom closets and commercial casegoods. Strategically located under one sprawling roof is their family of companies, including KB Surfaces, CAS America, Closettec, Great American Recreation and Dark Horse Metal fabrication. Each division specializes in a distinct manufacturing skill set that complement and build upon each other to create a seamless manufacturing process unique in the industry. For more information, visit www.thebeckcos.com.